માત્ર 10 રૂપિયામાં મળી રહ્યા છે LED બલ્બ, મોદી સરકાર ની મહત્વ પુર્ણ યોજના only 10 rupees led bulb
An important plan has been issued by the Government of India. Under this plan you can buy led bulbs for only Rs 10.
Gram Ujala Yojana provides cheap LED bulbs to the villagers for only Rs. The government is making every effort to ensure electricity in the village.
Employees appointed under this scheme will go to each village and take 5 old bulbs from them and give a new LED bulb for Rs.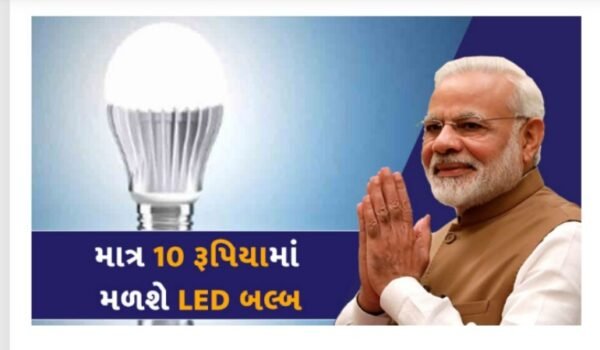 The scheme was launched in March 2021 by Union Minister of State for Energy RK Singh in Ara, Bhojpur district. Currently LED bulbs are being provided in rural areas.
The Central Government is constantly trying to reach out to every section of the society through its work. In the same vein, the central government will provide LED bulbs to rural electricity consumers in 12 districts, including Patna in Bihar, next month under the Gram Ujala Yojana at Rs 10. These include Patna, Bhagalpur, Banka, Bhabhua, Begusarai, Munger, Nalanda etc.
ગુજરાતી માં વાંચવા માટે અહી ક્લિક કરો
According to the information received, a total of 36,74,41,809 crore LED bulbs have been distributed till June 24. Distributed in Odisha, Gujarat, Uttar Pradesh, Karnataka and Andhra Pradesh.