Weather expert Ambalal Patel has predicted that the rain system will become active after the next two days when there has been a lot of rain this year. Due to the impact of low pressure in the Bay of Bengal, the Meteorological Department has predicted normal rainfall for 4 days in Gujarat. At that time, weather expert Ambalal Patel has also predicted rain.
According to Ambalal's forecast, chances of rain in Navratri are quite high in Gujarat. There is a possibility of light rain especially in North and Central Gujarat. There will be a change in the weather from September 26, after which there may be rain in some parts on September 27. From September 28 to October 1, there will be scattered showers in North and Central Gujarat and also in South Gujarat and Saurashtra.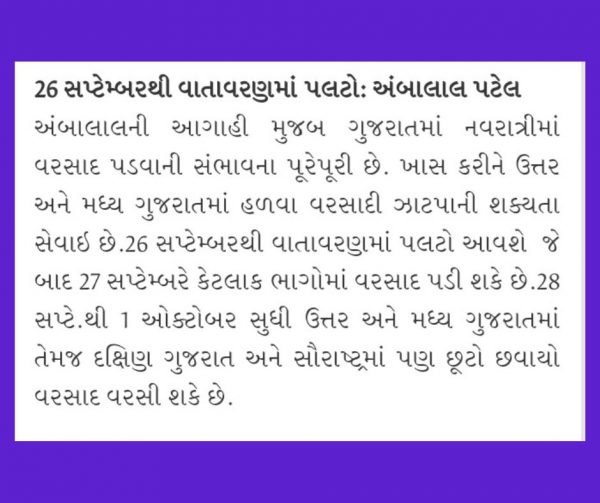 Ambalal further said that strong winds will blow in the sea till October 5. After October 10, light air pressure will be created in the Bay of Bengal, but the departure of monsoon has started. Rain may occur in some parts of the state from September 23 to 25. Heavy rains are likely in some parts of North India during the last days of monsoon.
Due to the forecast of rain, sportspersons may face disruption during Navratri. If the time has come for the farmers to harvest the crops, the farmers can also suffer.