Forms for Digital gujarat scholarship yojana have started filling up. Student friends, we know that millions of students are given scholarships every year by the government for financial assistance to students and like every year, this year also the online forms for scholarships have not started to be filled on digital gujarat.
We know that the people of our country are very poor and if every parent is not able to educate the boys then they are given scholarships so that the government can help them financially and the students can continue their education.
For students who come from obc, sc, st caste, the online application for filling the form is currently on digital gujarat portal. You can apply online.
All students who are studying in 11th, 12th standard or doing iti college or other course are eligible for this assistance. You can get scholarship by applying on Gujarat government's official website digital Gujarat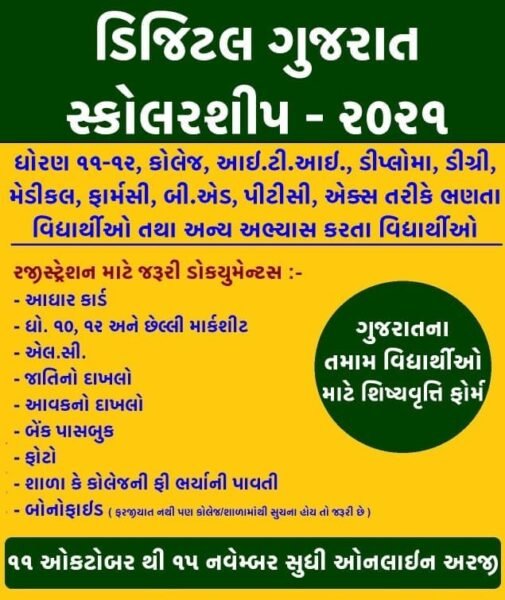 Required documents Digital gujarat scholarship :
• Adhar card
• std 10,12 or last marksheet
• L.c.
• cast certificate ( jati no dakhlo )
• income certificate ( aavak no dakhlo)
• Bank passbook
• fee pavti
• photo
Last date online apply – 15/11/2021
Students who want to fill the form online can fill the form. The last date for filling up the online form is 15th November and the above documents are required