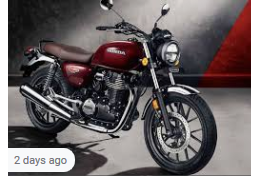 Hello, welcome and hello friends.
A few day ago Honda launched a new bike, the HONDA Highness CB350, which has been built only in the cruiser segment of India. In this article, we will give exclusive information about Honda Highness cb350's engine, silencer voice, price, looking, specification, variant. Which was launched in India only yesterday.
Honda Highness is launched with two variants and 6 colors. Lets, know about Honda Highness.
Price and variants :
The price of Honda Highness starts from 1,90,000. Which can go up to 2,10,000 Honda Highness is going to compete with the BULLET CLASSIC 350 and JAVA. there are 2 variants are available one is delux and second is delux pro.

The sound of silencer from Honda Highness will remind you of the bullet's classic. You will be confused on hearing this, there is such a similar sound.
Overlook :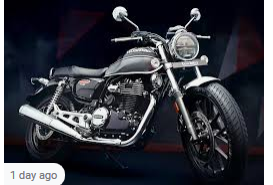 The Highness Speedometer is quite stylish and hyper-looking, with a small display and Bluetooth connectivity, although the Speedometer's design has been given in a round shape.
Talking about the seating of the Hyenas, a two-door Comfort Comfort The seat is placed, and due to the high low, women can also sit easily. The bike with which Honda Highness is launched is going to be a very good package.
Honda Highness has a normal handle bar and handle bar. Only the self start button and the hedge switch are given.
Lighting :
The headlamp and indicator of the Highness are give in round shape, in which the DRL is also give with dual compartment. All of them have LED lights.
Talking about the petrol tank, you get a 15-liter capacity wall, on which very attractive graphics have been given. And Honda is written in big words.
Ride quality :
Honda Highness comes with dual suspension which gives you a much better ride quality with plenty of comfort. This bike has both front and rear alloys which are available for 100/90 R90.
In this bike you get disc brakes in both the wheels, which gives the experience of amazing braking system. Honda Highness CB350 comes with ABS.
Both mudguard are metal which comes in chrome finish. Talking about the rear tail light, it is very attractive to look at, whose visibility is very good.
This is Honda's first bike which is retro classic with the class which is launch in India, it is already available in the CB500 and CB750 variants in the international market.
Speaking of Honda Highness' engine, this 348 CC engine is very powerful which generates power of 21 Ph and TORC of 30 NM which is more than Bullet Classic 350.
Honda Highness is name CB350 but the name Haynes. But than next added to give some classic names. Whose blazing you get to see with the short name in the side neck.
The honda Highness looks light but quite heavy. Honda Highness CB350 offers very good ride quality, the CB350's engine cylinder look reminds you of Royal Enfield which is very similar to the Classic 350.
Using chrome finish :
In Honda Highness, you can find chrome used everywhere, including front headlamps in front of mud and real wheel mudguards, in highness blazing, on the engine side, in the speedometer, and also in the rear.
Conclusion :
Overall, this bike is designe and making according to the cruiser raider of India. Joe is a competitor to Royale Enfield and Java bikes. According to the specification and price, the Fuser of this bike, see what happens next.
Now in the last, it is necessary to see how much this bike can compete with Bullet 350 and JAVA, and how much success is available in the Indian market or not.
For more update and full review to stay connected with us. If you want to more read about Honda Highness CB350 to visit this site. CLICK HERE.