Hyundai Alcazar color and variant details were reveal ahead of launch in June 2021.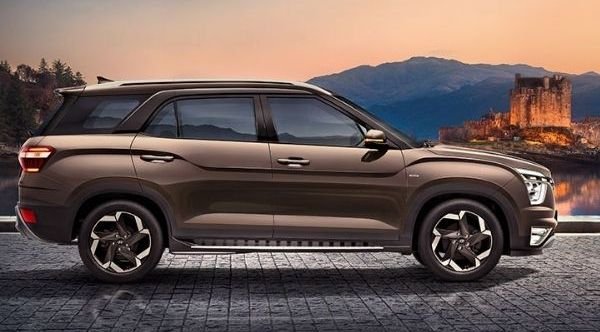 The new Hyundai Alcazar is set to launch in June 2021. While the Korean automaker already revealed some of the Alcazar's main attributes in April 2021, now some leaked images have exposed the details of the variants and color options. of the SUV. .
According to the leaked document, the Hyundai Alcazar will be available in a total of six variants: Signature, Signature (O), Prestige, Prestige (O), Platinum and Platinum (O). They will be divided into fourteen variants, based on seat, engine and gearbox options.
Here are the details: –
Hyundai Alcazar Variants 2.0    Petrol-MT 2.0      Petrol-AT 1.5       Diesel-MT 1.5        Diesel-AT
Signature                                       ✅ (6-seater)                   ❌                    ✅ (6-seater)                ❌
Signature (O)                                        ❌                       ✅ (6-seater)                 ❌                    ✅ (6-seater)
Prestige                                         ✅ (6/7-seater)                ❌                    ✅ (6/7-seater)            ❌
Prestige (O)                                           ❌                       ✅(6-seater)                  ❌                   ✅ (7-seater)
Platinum                                       ✅ (7-seater)                    ❌                     ✅ (7-seater)               ❌
Platinum (O)                                         ❌                        ✅ (6-seater)                 ❌                   ✅ (6-seater)
As the table above indicates, all variants will be available with gasoline and diesel engine options. However, only the optional variants will get the automatic transmission. Additionally, the mid-spec Prestige variant will be the only variant to be offered in 6- and 7-seater configurations.
Hyundai Alcazar color options :-
The leaked document also reveals that Hyundai will offer six color options with the Alcazar that will include Typhoon Silver, Titan Gray, Taiga Brown, Starry Night, Polar White and Phantom Black. The interior, on the other hand, will be finished in Black – & – Cognac Brown.
Hyundai Alcazar engines options :-
In terms of mechanics, we already know that the Hyundai Alcazar midsize SUV will be offered with 2.0-liter turbo petrol (159PS / 191Nm) and 1.5-liter diesel (115PS / 250Nm) engines. Both engines will have 6-speed manual and automatic gearbox options.
The Alcazar will rival the MG Hector Plus, Tata Safari and the upcoming Mahindra XUV700. Its pricing is expected to start from around Rs 12 lakh and it will position itself between the Creta and Tucson SUVs.