Mera Ration Android App : One Nation One Ration Card plan ensures distribution of subsidised foodgrains to ration card holders under NFSA to lift the entitled foodgrains from any Fair Price Shop (FPS) anywhere in the country by using their same/existing NFSA ration card after biometric/Aadhaar authentication on an electronic Point of Sale (ePoS) device. Under this scheme, beneficiaries will continue to get Rice, Wheat and Coarse Grain at the rate of Rs. 3, Rs. 2 and Rs. 1 per Kg respectively in other States as well.
The One Nation One Ration Card (ONORC) scheme is being implemented by the Department for the nation-wide portability of ration cards under National Food Security Act (NFSA). This system allows all NFSA beneficiaries, particularly migrant beneficiaries, to claim either full or part foodgrains from any Fair Price Shop (FPS) in the country through existing ration card with biometric/Aadhaar authentication in a seamless manner. The system also allows their family members back home, if any, to claim the balance foodgrains on same the ration card.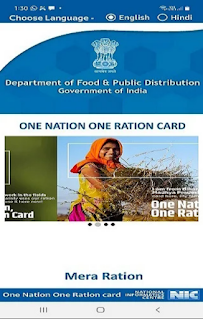 The Indian government's launch of the One Nation One Ration Card (ONORC) plan will help people who migrate to a new place to sustain their livelihood. This initiative makes the state-owned ration services flexible and offers help to the ration cardholders to use a single ration card at their convenience.
The app to get this service is available on android phones on the Google Play Store. Ration card holders are used to getting food grains through the public distribution system known as PDS. But when they travel to different states, they face some major issues in availing the PDS benefits. Now the problem would be solved through the Mera Ration App, where the beneficiaries will receive the ration card services across the country.
Steps to download and use :
Go to Google Play Store
Click on the search button, and type Mera Ration App
Tap on the Install button uploaded by the central Aepds team
Now open the app and here is how it looks
App Source From : Google Play Store